Operations Management Beyond Cost and Productivity:
Michel Philippart, DBA Professor at EDHEC Business School, Director of the MSc Strategy Consulting Digital Transformation.
Based on his experience at Frito-Lay and his McKinsey expertise, he developed the "Supplier Management Contribution Matrix".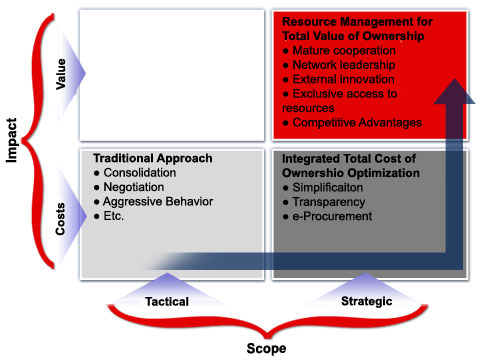 He promotes the development of Strategic Supplier Management and the management of Operations as contributors to competitive advantages and Shareholder Value. Driving costs down is not sufficient when all competitors adopt the same strategies. In aggressively competitive environments, cost focused Procurement does not create value, but merely avoid destroying it. If key competitors have similar methods and achieve similar results, the cost reduction is quickly given away to the customers represented by equally efficient procurement managers. Today, driving cost down is not differentiating!
To achieve the transformation of a purchasing organization, both the skills and the culture of the firm must evolve. This is the "Purchasing Leadership", an enhancement of the concept of Category Management that identifies and develop in parallel the technical competencies and the organizational skills.
Those are the type of issues Michel Philippart has faced during his career, working for top consulting firms like McKinsey or Booz Allen & Hamilton, and global companies like PepsiCo / Frito-Lay and GlaxoSmithKline / GSK Biologicals.  He continues to explore them at as Professor Supply Strategy at EDHEC Business School, through hands on management, training, coaching, project leadership, tutoring and more. He also looks at the impact of disrupting technologies like the Blockchain and Artificial Intelligence on Supply Management.