Training in Strategic Supplier Management
Through his association with Grenoble Ecole de Management / Grenoble Graduate School of Business, Michel Philippart assists corporations to enhance the supplier management skills of their managers. Programs are usually custom developed and include a mix of cases, theory, role playing. They cover a wide range of essential skills from the basics like cost analysis and negotiation preparedness, to the more advanced like supplier development, strategic partnerships. Soft / behavioral skills can also be included in programs, such as project management, presentation to hostile audiences, etc.
To complete the training, individual coaching and project support allow to significantly enhance the success of transformation projects. This approach can replace traditional consulting projects by empowering your own resources, which significantly increase the acceptation of the recommendations versus externally developed solutions. If you seek assistance, do not hesitate to contact him.
Education in Strategic Supplier Management
In addition to corporate training initiatives, Michel Philippart contributes to many education programs in supplier management, such as:
Grenoble Graduate School of Management, France
IAE, Grenoble, France
ESCP Europe
Institut Supérieur  de l'Aéronautique et de l'Espace, Toulouse, France
Bordeaux Ecole de Management
Université du Québec à Trois Rivières
EM Lyon, France
Verein / Association procure.ch
IESEG Lille, France
ICHEC Bruxelles, Belgium
ABCAL: Association Belge des Cadres d'Achat et de Logistique
MDI Alger
Institut Léonard de Vinci – Paris, France
Université Catholique de Louvain, Belgium
HEC, Paris, France
Universitade Federal de Parana, Curitiba, Brazil
Vlerick, Ghent/Leuven, Belgium
McKinsey summer university
Cases
Michel Philippart uses cases built from his observation of current and past business practices.
Some are published with pedagogical notes
Others are used in class settings but not published
Car fleet management
Technology acquisition (ZeusTech)
Setting a new purchasing organization (MBI)
Acquisition of rare materials (Vicuña Chase)
Negotiation and consolidation
Etc.
Promotion of initial education in Purchasing / Procurement
Building a world class supplier management team can be made difficult because of a shortage of qualified professionals. It is often caused by the lack of initial training in the field offered by business schools. Supplier management should become a more common feature in management programs, as a major, as an optional course, or even as a full fledged Master. A few countries like France have developed a rich offering in the field but in most markets, there is no suitable education for interested students.
In addition to the programs above, a collaboration with the International Entrepreneurship Academy at Jönköping University. He also works with Professor Darli Rodrigues Vieira, Coordinator of the MBA in Management of Logistic Systems and Project Management at the University of Curitiba, to include a supplier management module in the program.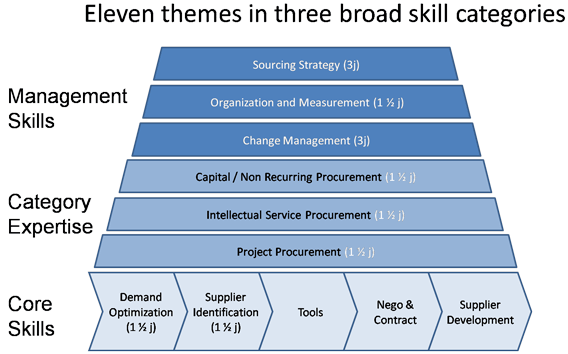 Custom Programs to Transform Supplier Management Teams
Michel Philippart assists companies in transforming their supplier management resources. Upgrading skills, coaching and mentoring projects, developing customized programs are some of the activities he is regularly performing for companies in fields as diverse as Defense or Commercial Retail.
International Business
Michel Philippart has also brought his extensive international experience to students in "International Business".
ICHEC Bruxelles, in 2007 and 2008 he was the scientific coordinator of the initial module of the DESGI
Algeria
Tunisia